Here's why:
Unlimited portions of your favorite Japanese foods-from sushi and yakiniku barbeque to ramen, curry and rice, takoyaki… the list goes on
Extensive menu (up to 130 items)
Fun interactive food experiences-grill meat at your table, make your own cotton candy or ramen, and much more
Japanese sake and shochu are available separately (or as part of an all-you-can-drink package)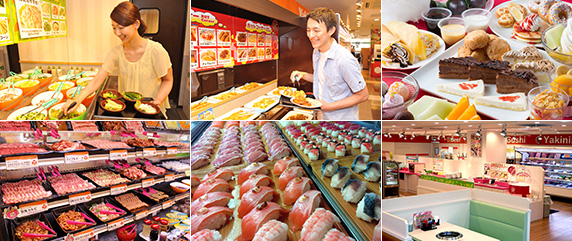 Our restaurants take credit cards, but do not all accept the same ones.
Please inquire directly with the restaurant you plan to visit or check the website for details.


These are the base prices at Stamina-Taro at different times. Prices may vary at individual locations,

Lunch
Dinner
11:30AM?3:30PM
(party must arrive by 2:00PM)
5:00PM?10:00PM
(party must arrive by 9:00PM)

Adults
Children (7?12)
Children (3?6)
Lunch
(weekdays)
\1,430
Guests 60 and older
\1,320
\880
\330
Lunch
(weekends and holidays)
\1,980
Guests 60 and older
\1,650
\990
\330
Dinner
\2,310
Guests 60 and older
\1,870
\1,320
\440
Soft drink bar
\260
\260
\260
| | |
| --- | --- |
| All-you-can-drink alcoholic beverage course | Dinner price + 1,078 yen |
Note: 90-minute time limit. Toddlers under 3 eat free.

Our extensive menu features up to 130 different items of all different food types, from sushi, yakiniku barbeque, desserts, ramen, curry, and takoyaki to popular sides, salads, noodle dishes, rice dishes, and more.
Even better, it's all laid out buffet-style for guests to pick and choose their favorites, eating to their hearts'content.
Take the headache out of trying to find something for everyone with large groups-at Stamina-Taro, everyone gets exactly what they want, every time. Come one, come all and enjoy the delicious variety we have to offer!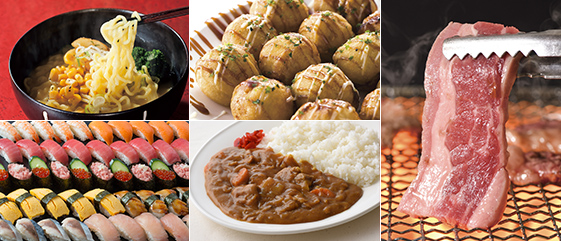 Guests can enjoy more than a meal at Stamina-Taro-they can also get involved in our popular interactive food experiences, like tabletop grilling, boiling ramen or udon noodles and adding their own toppings, or even making cotton candy, crepes, and sundaes.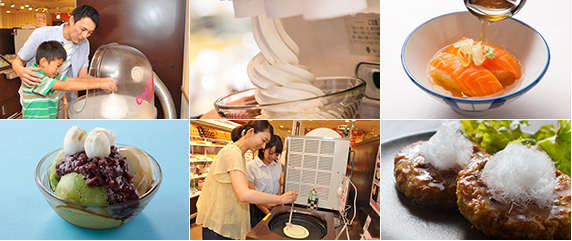 Our fresh, limited-edition seasonal menu items include sushi, hotpots, cold desserts, and more-allowing guests to fully immerse themselves in the delight of Japan's changing seasons.

Note:Actual selections may differ from photos shown.
Menu items vary by location and season.


There is a time limit of 90 minutes from when you enter the restaurant.
This is a self-service system in which you can freely choose the dishes you would like to eat from the food display counter.
There is a full menu of 100 to over 130 dishes including yaki-niku (grilled meat), sushi, deserts, salads, side dishes, noodles and rice.
Use of the soft drinks bar has a separate fee of 260 yen; alcohol is available with a separate fee for each drink.
The dishes available and the prices differ depending on whether it is a weekday lunch, Saturday/Sunday/public holiday lunch or dinner.
An all-you-can-drink course is available for an additional 1,078yen to the cost of your dinner.

*This offer is available from one customer.
*Please note that we will not serve alcoholic beverages to adults who are driving or to underage customers.
*Some restaurants in our group may not offer this service. Please contact us with the information below for more details.

Please be sure that you fully understand our restaurant's rules before enjoying your meal. Thank you for your cooperation.
| | |
| --- | --- |
| | Bringing any foods or drinks into this store is strictly prohibited. |
| | Taking away any foods or fixtures such as tableware (e.g. in-store spoons and forks) from this store is strictly prohibited. |
| | Pouring any water, hot water, tea or juices into a container you have brought with you (e.g. flask or PET bottle) from a drink dispenser, tea dispenser, water supply unit or the water supply in the restrooms/washrooms is strictly prohibited. |
| | Please take only the amount of food you will eat. (Please make sure there are no leftovers.) |
| | Please do not take food with your hands. (Please use the tongs.) |
| | Please use the correct tongs for the food you are taking (e.g. meat tongs for the meat and salad tongs for the salad). |
| | Please do not return food once you have put it on your plate. (Please give to a member of staff.) |
| | Please do not boil vegetables and meats in the noodle boiler for ramen and udon. (Please ask a member of staff for more details.) |
| | Please flush the toilet after you use it. In addition, please flush tissues down the toilet after use. |